Digital world is here to stay and it is a platform to display your skills. You can have an amazing website or a Blog with unique content but if you don't work hard to promote it as well it will not pick up traffic. SEO – Search Engine Optimization, SMM – Social Media Marketing, SEM – Search Engine Marketing, PPC – Pay-Per-Click are few terms which you are familiar with. If we want our website to be famous for originality or as most searched/visited site or get crawled by search engines, namely Google (https://youtu.be/0eKVizvYSUQ) - the first step would be to know meaning of these terms and then use ways and means to make your site earn the most hits/CTR (Click through rate). This indicates the need for professional SEO services provided by the SEO companies in Mumbai and other cities. There are specialized services provided by SEM Agencies, PPC service providers, social media marketing agencies, digital marketing companies, SEM agencies and so on to help you build traffic on your website.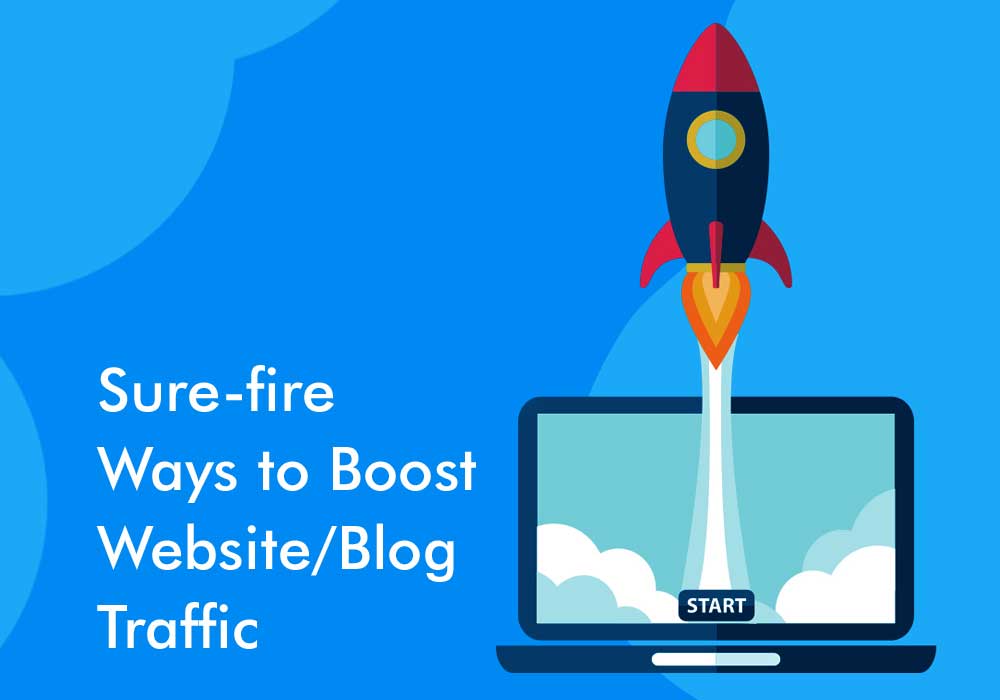 Following are a few pointers to guide you in right direction:
Firstly in the oversaturated web content getting recognition is quite a feat. So, you have to make sure the write-ups are original, user-friendly, engaging and updated.
Secondly to give your site the necessary push that web crawlers can shortlist your site on (preferably on first page of) search engine.
Now for sure-fire techniques:
Keywords:
You would need to research your keywords that is used by search engines to pick/select your article. One has to recognize them and write articles with using them (preferably in first paragraph) for crawlers to find.
On-page/SEO:
Usage of keywords, attractive headings, fresh content, easy loading etc. help to promote your site.
Off-page/Backlinks:
Backlinks is also an effective technique to promote various blogs/content to increase search engine crawling. This is an off-page action (taken outside your site) with embedded links to other articles/blogs/urls to interlink and boost ranking. Backlinks tends to rank higher on SERP.
Social Media/SMM:
Social Media dominates this electronic era so it's imperative to publicise your site on it or as the online word calls it "trend" it. Facebook, Instagram, Twitter, are the most basic trending social media platforms. Depending on your content and website you have to consider promoting it. Pictures, tweets, videos, instagram stories help approach your target audience to your site.
SEM:
Search Engine Marketing is pay-per-click (PPC) based marketing. You create an ad with respect to your site and pay the search engine to display it on the page. Wording and content determine the chances of your ad being clicked on and user visiting your site. This ad is strategically posted to target specified audience. This is a surest paid method to promote your webpage rather than waiting for organic traffic referrals from search engines.
Email Marketing:
is another sector that needs constant attention. You may get good traffic on your site by great content, SEO and other techniques but to keep them happy and continue make them return to your page is equally important (as well as build more traffic). Audience has expressed their interest but to keep their curiosity going you need to send newsletter about latest blogs posted, give special offers, send specific segments if it caters to a particular group, share links to social media sites to encourage/remind them to follow you etc. Some companies also provide email marketing services to support and build your site.
Slack Community:
There are some slack communities which can be joined to connect with target audience. They can be a small group who could be interested in topics displayed on your site. If it does not work out in your favour then look for other community. This is a great platform where real time chatting can be done to promote direct contact to cater to the wants and needs of potential users. You will need to gradually build rapport and goodwill which inturn, will make them want to refer your site. You would have to keep updating your posts and answer questions and tactfully share links.
Blog comments/Forum interaction:
This is an effective SEO link building technique as well. By making thoughtful comments relevant to your web page you can interact with your audience directing traffic to your page. You can even maintain a spreadsheet of all the relevant blog posts for quick reference.
Podcasts:
They are opportunity for marketers. All you need to do is present your idea to the host of podcast explaining how you could be an asset for their future episode. Then appear on it with information that is interesting and enlightening, along with promoting your site and asking them to visit your site for more detail. Plus make sure your give your name, links and other details clearly for viewers ease to visit your page.
Quick Response Codes:
An effective underutilized tool to increase direct traffic to your site. Everyone carries a mobile phone which makes scanning QR codes easy. Effective placement of QR codes on business cards, flyers, posters, social media sites like Facebook, etc. will give quick access to direct traffic to your website. They can be generated using a free QR code generator to create a unique code for user to scan.
Sites don't get recognized in a day one needs to build credibility and communication. You will need to present information not bombard it. Answer questions and insert links to help your piece not force links to make it jazzy. If any questions seems out of context but remotely associated with your topic it is beneficial to answer it with research and helpful links to build healthy relationship. This will help the user to share info with other users diverting traffic to your site. Bottom line is it is a digital world and marketing is a task which needs constant upgradation and strategies so the professional guidance of digital marketing agencies comes in handy.