Digital Marketing activities today are essential for E-commerce sites to stand out against competitors, given the high amount of online clutter present in almost every single product and service category. DM activities significantly boost the number of eyeballs, footfalls and conversions, and play an important role in brand recognition, recall and goodwill. While word of mouth is and always will be important, communication today is two-way, and customers expect the ability to engage with a brand on a more personal level.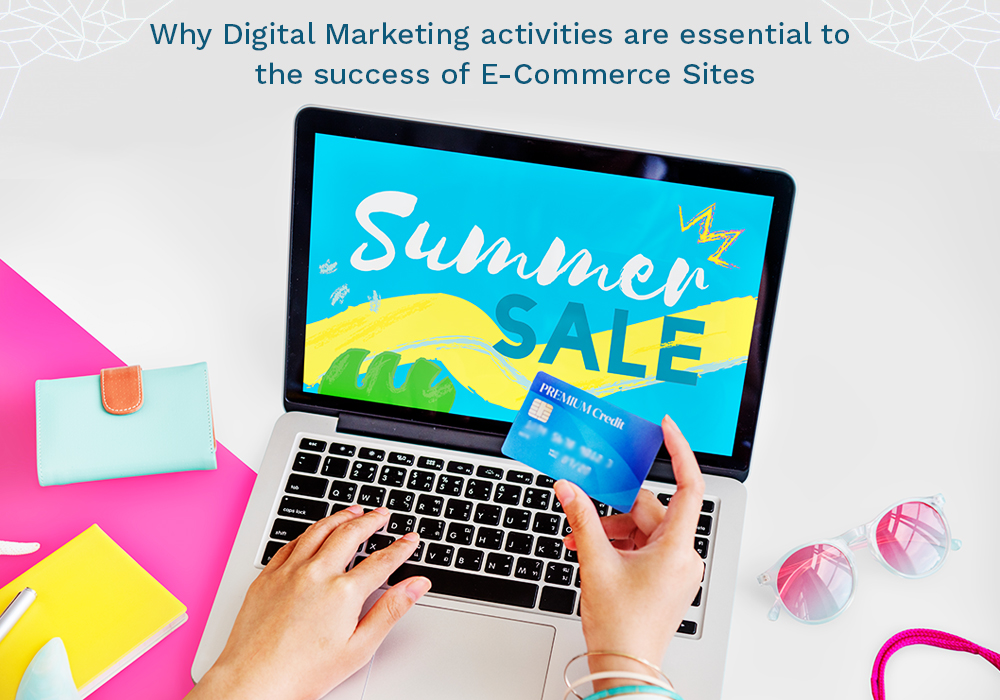 Reputation management is key as customers share reviews and their experiences with brands on social media and other review aggregators, allowing brands to listen to and monitor actionable feedback based on consumer perception.
Important Digital Marketing Channels and Activities
Activities like search engine optimization (SEO), search engine marketing (SEM), content marketing, influencer marketing, paid and organic social media marketing, e-mail marketing, and analytics are key components of Digital Marketing.
1. Search Engine Optimization (SEO)
For an e-commerce website, Search Engine Optimization (SEO) is vital. It helps increase the quantity and quality of traffic to your website via organic search engine results, ultimately resulting in higher conversions. Besides this direct impact, SEO also helps shape your user journey, considering how according to Google, user experience signals play a key role in ranking positions.
Relevant, optimized content, site load speed, website security, quantity and quality of inbound links, domain age & authority and social signals are some of the important signals search engines taken into account when ranking websites on search results.
To cater to these and other signals, a number of on-page and off-page SEO activities are critical to the long term discoverability of your website.
2. Search Engine Marketing (SEM)
Search Engine Marketing (SEM) allows you to target the keywords people search and list your website through ad placements. These ads rank before organic search listings, resulting in even higher click-through and brand visibility. An SEM campaign gives you some degree of control over targeting. You can define your target audience, and by bidding on keywords, you define your ad budgets and what you're willing to spend on clicks. Careful monitoring of cost-per-click and keyword targeting are essential to optimizing SEM campaigns.
Google AdWords and Display Ads are the primary channels to carry out SEM campaigns – owing to the fact that Google is by far the most used search engine worldwide. By employing effective ad titles, copies and attractive call-to-actions, paid search ads are extremely effective in driving relevant traffic to your website.
Research shows that companies using Google's Dynamic Search Ads saw appreciably higher click-through rate, greater conversions in new markets, and greater ad RoI.
3. Social Media Marketing (SMM)
Presence on social platforms today is important for brands to be discovered and drive sales. You can route traffic to your e-commerce website, or sell directly through platforms like Facebook and Instagram. Typically a mix of both objectives are the most effective. Social Media platforms are always evolving to make it easier for businesses to target their audiences and engage with them It has become much easier for brands to connect with customers through social media. Social networks are potent and Digital market professionals need to include paid social media as part of their strategy to engage with more and more customers.
Social networks are built on the premise of allowing people to share with their immediate networks, as well as the wider network as a whole. When a converter customer is happy with your offerings, they're more likely to voice their satisfaction and share their experience, resulting in the potential for a snowball effect.
4. Email Marketing
Email marketing allows you to target individuals, but on a big scale. The strength of your email database as well as the relevance of your mail campaign affects email open rates, click through and eventual sales. Timely promotions, communicating new product launches and new developments in your company are important to make sure your brand is recalled from time to time, so when a prospect is looking for your offerings, they remember you.
Emails have an important part to play in providing a better shopping experience to the clients. Once you order or pay for your product on the website, you will instantaneously receive a confirmation email along with a digital invoice. Clients can also email questions about various products, your experience, or general information requests about a particular company. Personalised emails help the company connect with customers.
When you start segmenting clients for email marketing campaign, it becomes simpler focus your messaging and cater to the requirements and needs of your prospects.
You should have a strategic email campaign by sending out a welcome email with an engaging subject line, link, the brand story and special offers Many brands send out product suggestions based upon prior purchases and browsing history. After purchases are made, a friendly thank you message always helps.
To conclude, in today's world, there are always a diversity of products and services vying for a consumer's attention. Consequently, it can be rather tough for an e-commerce start-up to proliferate and grow on its own in a short span of time without active marketing efforts. Digital marketing helps a brand grab the client's attention, with the intention to communicate the brand's value as well as its breadth of offerings.
Want to get more targeted visitors and expand your online business? Get in touch with us for a Free website audit.