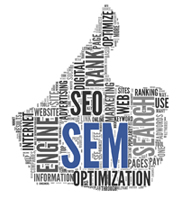 Search Engine Optimization (SEO) is the process of improving a given website's ability to be read and indexed by Search Engines like Google & Bing. SEO is the process that ensures your target audience finds you online when they use search engines, and is the focal point of increasing your site's digital visibility. SEO significantly increases both quality & quantity of web traffic to websites from search engines via 'organic' or 'natural' search results. SEO builds your brand's online credibility & significantly boosts its online presence. Website development is rendered haphazard and incomplete without the impact of SEO to complement it. Some key points about SEO:
93% of online experiences begin with a search engine.
A site that is Search Engine Optimized typically generates a minimum of 200% additional Organic Search Traffic than its non-optimized counterpart.
90-95% of Search Engine Traffic comes from Google, Yahoo & Bing.
A variety of factors contribute to the Search Engine Results Pages (SERP) of websites, but the most important & overarching aspect is to ensure that a given website does not attempt to deceive either its visitors or a crawling search engine – typically through 'black-hat' techniques. We are keenly aware of the importance SEO has in the online reputation & credibility of your website, and we manage all essential on-page & off-page optimization factors.
In addition to garnering a bigger audience for your site, SEO also provides valuable feedback relating to the quality of various accessibility related factors of your website.
Is your site W3C compliant?
Have you accumulated broken links and duplicate content over time?
Is the page loading fast enough to engage the user as well as avoid search engine penalties?
Are there any shortcomings with your site structure or the content you're displaying?
These are some of questions SEO processes will give you answers to.
Our SEO process, simplified, consists of the following steps:
Open dialogue to understand your site's scope and objectives, and what you're trying to achieve
A short questionnaire – or Client Brief – to be filled in by you, to give additional clarity
Creation of a Pre-SEO report by us which gives you insight on your site's current setup from an SEO point of view
Finalization of list keywords to be targeted
Commencement of SEO – on and off page optimization
Periodic Site Analytics reports which give you insights on variables such as incoming traffic, traffic sources, pages visited, goals achieved, keywords used by visitors, etc.
Also, we'd like to stress and encourage you to research for yourself that absolutely no SEO service can guarantee you '1st Position Ranking on Google'. These dubious claims are highly misleading and services that make these claims predominantly rely on 'black hat' – unapproved – practices that in the long run ruin your site's credibility. SEO is highly customized, and not a 'one-size-fits-all, guaranteed ranking' solution as many services position it as.
Get in touch with us for a no-obligation Pre-SEO audit.