G-Suite
Gmail
Google Calendar
Google Drive
Google Hangouts
E-Mail Security
Pricing

Industry leading Business Email & Collaborative Suite
G-Suite for Business is an enterprise grade collaborative suite brings the best of Gmail and other Google productivity tools to your fingertips. Different plans are available according to your specific work environment - whether you have a boutique setup, or an SME, or a large enterprise, G-Suite is the perfect productivity suite for you.
Over 5 million businesses today use G-Suite as their technology backbone. Communication, collaboration, data security and storage are the key components of a productivity suite, and G-Suite handles these functions and more in a quick, safe and easy to use environment.
Deployment
General Data P. Limited is an authorized G-Suite Reseller and can help you decide whether G-Suite is the right business toolset for you. We'll guide you through the selection process, and take care of migration, implementation, training and support.
Migration
While we've helped many companies implement G-Suite from scratch, we have also replaced many existing legacy setups with G-Suite seamlessly and with no downtime.
We're keenly aware that safe and secure migration of existing data is a priority for any business and ensure the transition to G-Suite is smooth.

The most intuitive and cost efficient Business Email Solution
Gmail starts with 30GB storage per user as standard and provides communication via Text, Voice and Video chats. You can also further upgrade account storage at any time. It can be accessed offline and from your desktop, so you can plan ahead and keep mail drafts, etc. ready for when you go online.
As with the rest of Google Apps, you're guaranteed a 99.9% uptime SLA, which is critical for a business function as important as E-Mail.
A powerful mail search engine comes integrated for quick discovery of mailbox content.
Works on your custom, registered company domain. Example:

This email address is being protected from spambots. You need JavaScript enabled to view it.

Access is device independent. Usability is optimized for tablets, mobile devices and desktops.

Enable team members to manage and share their daily schedules
Plan, highlight and annotate events and reminders. Calendar allows you to pin documents and other files to relevant events, so that they are readily available right when you need them.
Create shared calendars, which allow teams to co-ordinate their schedules internally as well as with clients and share relevant events with others.
The time zone conversion feature quickly converts foreign time zones to your local one, making it easier to keep track of international work schedules.
Schedule and set up event reminders from any device, such as a computer, tablet or mobile. Changes and updates sync across your devices so you know your calendar is always up to date.
Calendar is also available offline should the need arise and can be synchronized with other desktop calendar applications like Microsoft Outlook, Apple Mail and Thunderbird.

Access your files & documents online. From anywhere.
Share and collaborate with team members, customers, partners in real time.
Easily upload and share individual files or entire folders with whomever you want.
With Google Docs, you can prepare rich Documents, Presentations and Spreadsheets with images, tables, macros and much more – right from the web-interface – in real time and with version control.
Work across devices. Your files sync immediately so you pick up right where you left off.
Access control allows administrators to determine file or folder level access, and whether users are allowed to edit or simply view documents.

Instant text, voice and video communications, simplified
Instant messaging is core to Hangouts. You can initiate quick chats with text and images, either as one-on-one or group conversations. Your conversations save and sync in real time so as you switch from one device to the next, you pick up right where you left off.
Video conferencing with up to 15 participants is possible with Hangouts, in HD. Participants can be present anywhere in the world, Hangouts brings them together.
Integrates with other Google Apps, so you can save time with actions like initiating conversations directly from your Gmail inbox, or creating and joining videoconference events straight from Calendar.

Top-notch data security
Having so many millions of users, Google Apps takes great care to keep your data safe, secure and in your control. Google's cloud infrastructure bestows exceptional security and keeps your data accessible perpetually, with zero scheduled downtime.
Your work is always backed up on Google servers. Duplication of critical data means that in the event your device crashes or gets lost/stolen, you'll be back up and running in no time.
From the moment you start using Google Apps, any data you store is yours. You own it, and Google's Terms of Use and contracts state exactly that. To top it off, Google provides powerful administration tools to help you control and track your data and service usage.
With an SLA guarantee of 99.9% uptime, with no scheduled maintenance, you can expect 24/7/365 service from Google. Powerful redundancy and Disaster Recovery measures in place assure you that even disasters won't result in data loss.
SSL-encrypted browser sessions, two factor authentication, custom password string requirements and otherbest-practice security measures make client-server communication extra secure.
Google's highly experienced, worldwide security team ensures security standards are in line with best practices and always evolving. Google Apps and Google data centers are also SSAE 16 / ISAE 3402 Type II SOC 2-audited and have achieved ISO 27001 certification
Pricing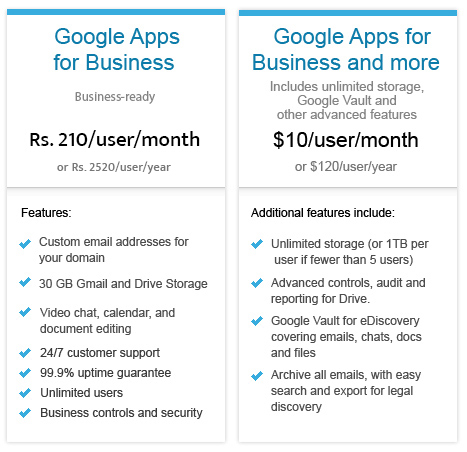 Our G-Suite Clientele