Reduction in physical space requirements and a much quicker document search and retrieval system are just two of the many benefits of digitising your paperwork.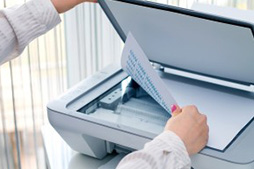 Scanning and Digital Imaging is the conversion of physical documents and images of any kind, in any format, into their digital equivalents. Reduction in physical space requirements and a much quicker document search and retrieval are just two of the many benefits of digitising your paperwork. GDATA provides total imaging solutions and aims for operator-efficient design and productivity. We focus on client-specific document management requirements and, partnering with world leaders, offer you effective solutions keeping in mind present and future needs.
Why should you go for Digitization?
With the dramatic increase in types of data and respective formats, the need to integrate and share data across systems has become vital. For most organizations, this involves delicate balancing of the processes that move data between systems. Our solutions address the above concern in a very effective and efficient way:
Streamline business processes


Deliver information / Data to the right person at the right time.
Streamline paper-based processes.
Optimize processing time.
Improve productivity and efficiency.

Document Management


Archive and Manage documents in a structured and secure manner.
Protect your paper records.
Reduce risk of lost / misplaced documents.

Data Capture


Capture information from paper documents, multimedia and digital content.
Read Information from scannable inputs like barcodes, QR codes, RFID chips.
Transform and deliver captured information into various systems: Document Management, CRM, ERP, MIS, etc.

Continuous Availability


Keep end users constantly connected to their mission- critical applications.
Provision of robust high availability and disaster recovery solutions.
Not just LAN based; WAN-enabled.

Minimize Paper Storage


Ninety percent of documents handled in the workplace are paper-based. In the average office, 19 copies are made of each document, and roughly Rs 500/- is spent on labor per document filed.
GDATA can convert files into a digital format, reducing document storage space by up to 80%. Approximately one filing cabinet can be recorded on a single optical platter. Not only is storage space minimized, but access to "filed" documents is also greatly improved.

Eliminate Manual Searches

Searching for documents is time consuming. Fifteen percent of needed documents are "out of file" or misplaced; 7.5% are lost completely. Up to thirty percent of a workday is often spent searching for files. Electronic Document Management can provide an immediate response to a query, bypassing the long process of a paper search. Eliminating the manual search can enhance customer service, which helps you offer customers faster response times.

For example :

A car dealer performs a vehicle inspection and is missing a key. The dealer calls the manufacturer to get a key number so a new key can be made for the car. The manufacturer will then need to search through the files for the car that matches the VIN (Vehicle Identification Number) to provide the key information to the dealer. This search could take several days. If the files were stored digitally, the dealer could call the manufacturer and provide the VIN number of the car, which could be entered into the search field. The dealer can get the information almost immediately, greatly enhancing customer service. The manufacturer could even allow dealers to dial into their system to retrieve unrestricted information.

Improved Information Availability - Multipoint access


Imaging solutions can grow from a single user to multiple users across the organization. With digital imaging, it is no longer necessary to shuffle files from one desk to another. People working in different departments, areas, or locations can all have access to the same information through their computers. Images are decentralized, and therefore more easily and readily accessible.

Through the use of our On-Base Client App, you have the ability to open and view several files at the same time. If a coworker needs a file you are working on, you can drag the file icon into the mailbox option and send it to them, thereby making access faster and reducing time spent searching.

Increase Information Security


Security of your information is achieved on many levels. Access to information is secure and available only to authorized personnel through the use of Virtual Private Networks (VPNs). GDATA communicates with customers by modem, Integrated Services Digital Network (ISDN), T-1, and T-3. Through the On-Base Client App, access to information can be controlled right down to an individual page, giving personnel access only to information that is directly relevant to them.

Electronic Document Management can provide another form of security through Disaster Recovery (DR). Once the data is converted to digital format, a backup copy is stored in a disaster recovery vault. The customer is only charged a fee if and when it becomes necessary to use the backup to recover lost information. Should an unfortunate disaster occur, GDATA will have you operational again within a few hours, eliminating costly downtime.

Reduce Storage Costs

The cost of filling and maintaining a filing cabinet is staggering. There are costs associated with equipment, space, and the salaries it takes to maintain the filing cabinet. A four-drawer filing cabinet holds 15,000 to 20,000 pieces of paper. One filing cabinet of information can be held on a single optical platter, only about twice the size of your standard Audio CD case.

For legal reasons, certain documents need to be retained for long periods of time. GDATA can provide you with options for off-site storage of paper documents as part of an imaging contract.

Enhance Customer Service

A document management system can empower your company's employees with the ability to locate and retrieve documents instantaneously. This in turn facilitates immediate response to customer questions and inquiries with limited downtime.

GDATA can setup your Document Management Solution in a way that compliments your service force. The structured, indexed way in which information is stored and retrieved ensures customers face minimum wait during support calls, as the service agent can quickly and efficiently access all pertinent details and instructions.