An umbrella term for unifying diverse economic activities, 'digital economy' is sustained by online connections among people, businesses, processes, data & devices. It is a hyper-connected economy that utilizes Internet, mobile technology & IoT to connect businesses in the online, digital world.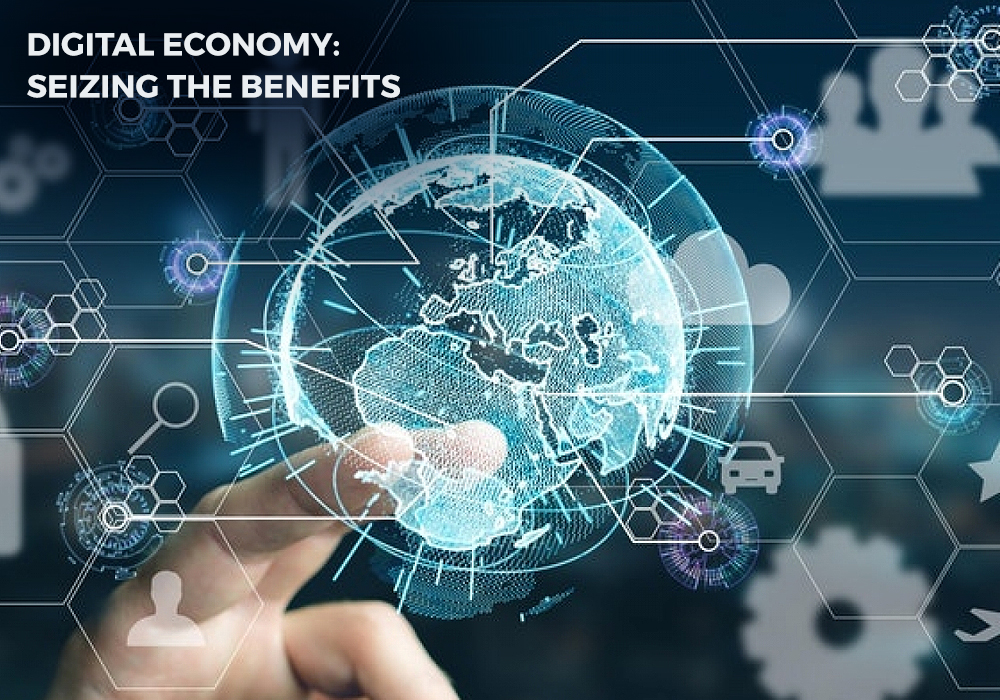 Digital economy has reshaped business structures, interactions, delivery of consumer services & the flow of information and goods. It has enabled the 24x7 availability of businesses & has brought together all corporate stakeholders.
Speed, transparency, ease of monitoring & global outreach – these are some of the most crucial tenets of a digital economy.
Gartner defines digitization - or digitalization - as the process of changing from analog to digital form, also known as digital enablement. Digitization takes an analog process that requires physical paperwork, in-person interaction and manual record keeping, and makes it digital. Digital processes reduce manual errors, reduce time spent, bring about transparency and enable work to happen remotely by cross-functional teams separated by geography.
It's extremely important for companies to realize that irrespective of their size, nature of work and location, digitization – as a umbrella concept – is something that can benefit them in some way or another. Turning a blind eye to its advantages and sticking to traditional workflows, processes and ways of working is dangerous. Know that competitors will overtake you by bringing about efficiencies and process optimization by bringing about digitization of processes, workflows and infrastructure.
In addition to interactions moving away from analog technologies (snail mail, telephone calls) to digital ones (email, chat, social media), both work and leisure domains have also become digitalized. Conferences & meetings are now routinely scheduled over digital mediums, reducing the need for in-person presence and unnecessary physical infrastructure.
In the manufacturing sector, production is primarily reliant on computer controlled machines, which have revolutionized operations & throughput. With their ability to record data, fine tune production processes and speed up internal shop floor movements, they have increased process efficiency and improved data transparency.
Digital Transformation of Businesses: E-Business & E-Commerce
It refers to the implementation of organizational changes using digital technologies to drive customer centric strategic business transformation. This indicates that the enterprise gradually becomes customer-driven end-to-end. Digitization & digitalization are about digital technologies but digital transformation is focused on the customer.
Importance of Digital Transformation:
Consumer Insights:




Enterprises generate a LOT of data, both structured and unstructured. Today, billions of dollars are spent trying to analyze this 'big data' to gain consumer insights and perform sales and trend forecasting.

Easier collaboration:




Open, multichannel communication
Instant access to information
Easy user access rights to allow viewing, editing, copying and sharing of information
More direct involvement of stakeholders
Provision of a 'collective glance' on projects by teams

Better customer experience:




Customer feedback can be obtained quickly, actionable insights can be identified & better value can be provided to customer; faster & more specific complaint redressal of customers. CRMs and ticketing systems allow structured replies and case histories for CSRs to easily take stock of existing cases.

Employee empowerment:




E.g. providing work-from-home facility to employees shows company's trust in them & imparts great flexibility to them; allowing advance reconciliation of imminent expenses of employees through an expense management system like Zento
E-Business and E-Commerce are closely related & are the main components of a digital economy. Let us consider some interesting examples.
Daily Commuting:




Uber, the world's largest taxi company, owns no vehicles.

Social Media:




Facebook, the world's most popular SM platform, creates no content.

Online Retail:




Alibaba, the most valuable retailer, has no inventory.

Airbnb:




the world's largest accommodation provider, owns no real estate (that it lists).

Banking:




You don't need to bother about filling forms at banks to withdraw or deposit money. Most banking functions today can be done through a bank's website or mobile application (Netbanking & Phonebanking).

Healthcare:




patients can get opinions from healthcare specialists online. Verified doctors and health professionals are available, reviews by patients add transparency and accountability, and the nearest medical services like hospitals, clinics and pharmacies can be found within a few clicks.

Entertainment:




The BookMyShow app in India is a great platform to book tickets to movies, sports tournaments & other events, from the comfort of your home without bothering about long queues.
Era of Digital Marketing
Like a brick & mortar office of a traditional company, an online business is initially not easily known to customers and prospects. If you are going to float new online business & want to sell a unique product or service, you can't do that in isolation. You need to make people aware of your products' existence by doing proper online marketing.
This is where companies providing Internet marketing services come into play.
Digital marketing companies help you formulate & execute the right digital marketing strategies to promote your brand, products and/or services through digital channels.
These agencies help you identify the target customer segment, fathom their needs & position your products to them at the right time in the right way.
A digital marketing agency also helps your online business get feedback about how your brand is faring among customers in real time.
If you'd like to explore the benefits of taking your brand, products and services online, we at General Data can draw out and execute a planned strategy, in a economically prudent way. We also specialize in creating e-commerce websites on CMSs like WordPress. Also, if you have an existing website, we can develop and integrate a new store if you're not selling online yet.
Our digital marketing solutions will help you garner more visibility, leads and sales of your products/services through SEO, SEM, SMM and other online marketing services. Reach out to us here