The days are long gone when office spaces had to deal with rows upon rows of filing cabinets to store their paperwork containing business information. Document digitalization services have reduced the effort, space as well as the time needed to create information, store it, update it, and grant someone access to it or take backup of info which has decade worth of content in size!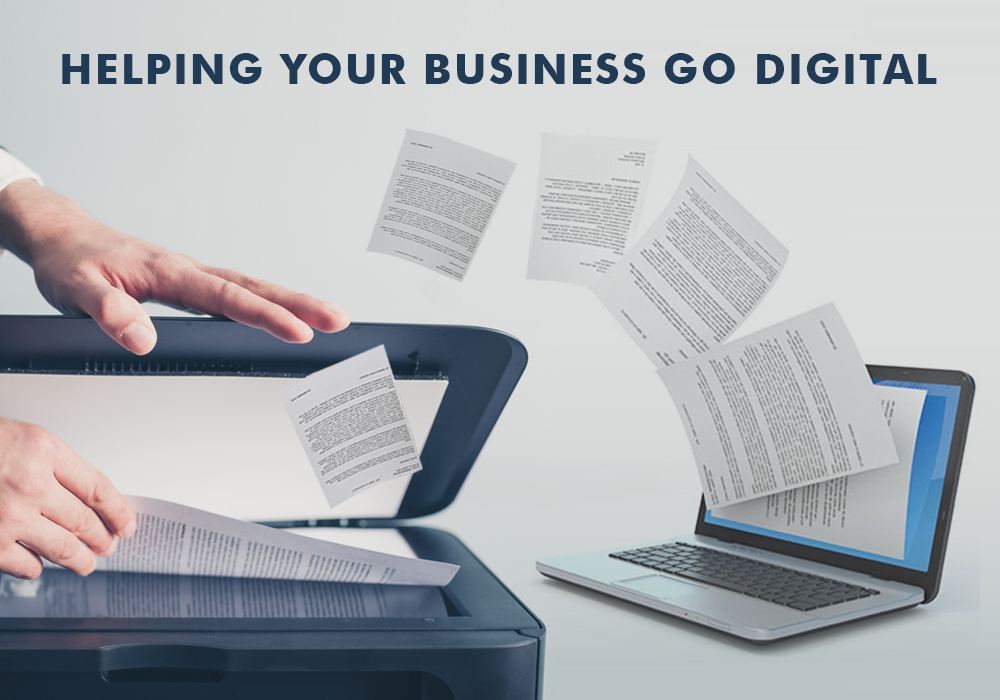 Professionals have leveraged technology to evolve extremely efficient business processes. It has led to development of new digital business tools & information management services, small and big, to cater to varying & mutating business needs arising with time.
In this article, we briefly discuss how technology has touched upon and affected businesses & after that we delve into document management systems & their impact on today's corporate.
What Is a Document Management System (DMS)?
A document management system automates the way of organizing, securing, capturing, digitizing, tagging, approving & completing business files' tasks. DMS enables a company to manage large repositories of data and documents.
It is a central point from where all digitally created documents, spreadsheets, images etc. can be accessed. Not just that, you can regulate access rights themselves in DMS.
According to a Bitkom study, only 19% of small and medium-sized businesses have the right software in place to digitalize their office work. For large companies, this figure is already at 86%.
24X7 availability of digitalized documents (i.e. digital information) from a central point is the most vital asset for any organization. A good DMS ensures that precisely.
How Does a Document Management System (DMS) Digitalize Your Business?
DMS is a huge boon for any organization dealing with information management. Here are some of the ways in which a document management system digitalizes your business:
Every business process uses or generates one or many documents in some way. A DMS replaces the paper version of generating or exchanging documents by processing them completely electronically. For instance, you can share just a link of the digital document in the DMS with other employees and whatever changes they make in it can be easily tracked. Redundant copies can be discarded swiftly.
Certain processes can be totally automated if there is no interruption due to use of paper. DMS eliminates these disruptions & also passes on the digital documents to other business applications like ERP system. You can create fully automated workflows e.g. for invoices, complaints & procurement.
Search and retrieval of a digital document is way, WAY, faster as compared to its paper equivalent. One can't appreciate a DMS enough when it comes to saving of time in searching a decade old business document that has been, fortunately, digitalized. Talk about efficiency! Bid adieu to tedious paper searching.
Employees working in any shift or from any location can access the required document through DMS if they have been granted access rights for the same. Cloud connection enables cross-department teams to work flexibly with the digitalized information.
Paper is mortal, let's face it. It will disappear one day no matter how strongly you make efforts to preserve it. Its info is always vulnerable to be lost. Not so with the DMS in place. Every change in a digitalized document can be tracked, the document itself can be versioned so that its integrity is never compromised.
Employees dealing with digitalized information through DMS from early on, are very efficient in handling digital documents. They are well aware about the functioning of this repository and often come up with improvised processes to streamline business information management.
A DMS is a solution for entire company. Due to its cross-departmental features, DMS offers a great synergy in processing a document through different departments. For instance, invoices pass through procurement, controlling & accounts departments and DMS unifies the respective processing mechanisms (usually compatible with ERP systems) of the departments.
General Data provides information management services as an end-to-end solution to take care of all of your business-critical paperwork/information/data/workflows. After analyzing your requirement, we combine functions from document scanning & digitization, document management solutions & records management to offer you a tailored IM (information management) Solution.
Document management system offered by General Data has features like search, upload, versioning, digital signatures, document logs, workflows, access control, LDAP & DBMS integration, security, collaboration & generation of audit reports as per internal policies.
For more info on DMS, reach out to us at GDATA.