Introduction of new website building tools has led to a sharp growth in website page sizes over the years. Adding pages to a website every now and then is easy but with every plugin addition or complexity in front end development, it becomes important to reevaluate the site performance from time to time. Consequently, website maintenance is of top priority for any business with an online presence today.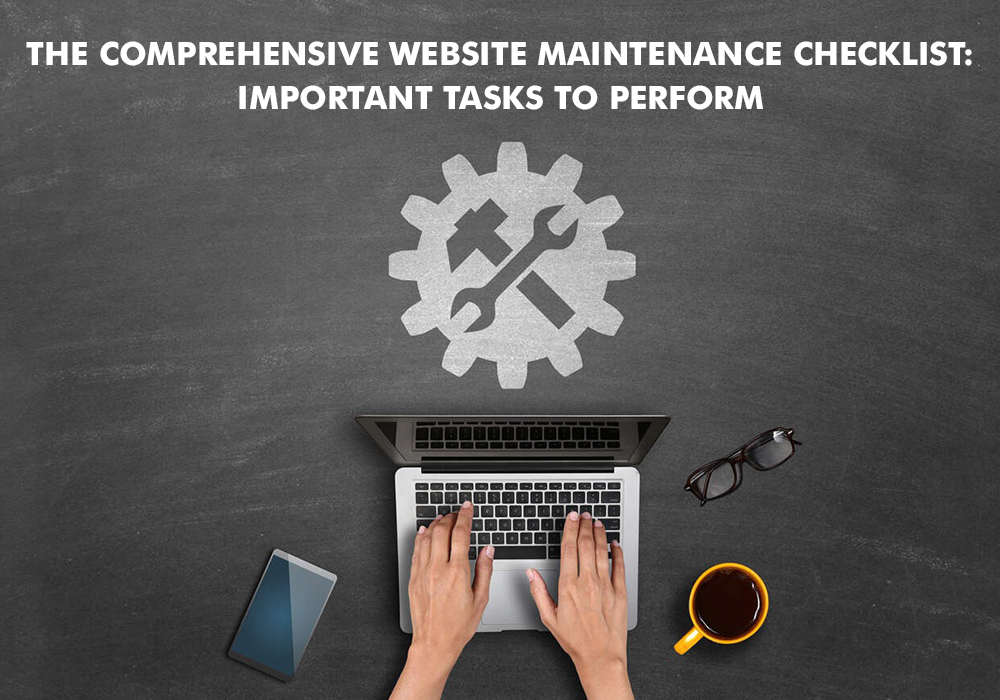 Regular website maintenance helps to present the latest facets of your business to users & also plugs any loopholes in the website from the perspectives of SEO, customer engagement, security & brand image.
Here is how your business can benefit from implementing the weekly, monthly and yearly website health checklists rigorously.
Weekly Website Maintenance Checklist
Valuable & consistent blog posting:
Regular publishing of valuable content on your website boosts authority building with your audience. Content strategy is important to increase organic traffic & conversions, and should be a priority in your weekly website maintenance checklist

Consistent posting of relevant content tells your audience that you are a subject matter expert. It also allows you more opportunities to use keywords pertaining to SEO.

For instance, your audience might be looking for a digital marketing agency using the keyword 'best digital marketing company'.
In order to rank for this keyword, you must create blog posts about both the topic digital marketing, as well as your business and how it provides value addition to your customers, strategically embedding relevant keywords in those posts. In this way, you'll be using the keywords more organically, in ways that read naturally and offer tangible value within the content.

Checking for & fixing broken links
Next in the list of weekly website tasks is identifying & fixing the broken links.
Websites are storefronts of your business' online presence. If any links to your website pages are broken, online audience will never arrive at what they are looking for on your website, Google's web crawlers won't be able to find and index those pages, leading not only to loss of traffic but also of possible revenue and prospects.

It leads to bad UX and potential clients get the impression that the website is not up to date.

Set up page redirects if content has been relocated to new pages. Correct any typos or spelling errors in the link. For instance, if your 'products' page is changed to 'our products', do update the link to it as well.

There is no dearth of tools online which you can use to check broken links during website maintenance. A tool like Google Search Console is quite useful here. If you have used a website builder like WordPress, you can use its plugin called Broken Link Checker.

Do maintain a record of all the link changes and keep updating that record.

Core website backend updation
Do a weekly check on the latest versions of the technologies used to build your website. Regularly patch-up your website with the latest security updates.

After updating your backend – for example, if you're using WordPress, you must update it to its most recent version, do verify that website's functionality is still integrated & consistent as it was before the updates were applied.

If you have used a site builder, your website would be using a lot of plugins which keep updating as their developers continue to optimize them. Do update these plugins every week to their latest versions. Plugin updated bring enhancement in features, security and even load performance.

Ensuring browser compatibility
Not everyone uses the same browser to view your website.

Also, browsers like Chrome, Mozilla Firefox & Internet Explorer keep updating regularly. Such browser updates can affect the look and feel of your website.

It is possible that your website, which looked awesome on Chrome, might look messy on IE or Firefox. A bad first impression will leave you with a lost sale.

You can use online tools to check the compatibility of your website on different browser versions, such as TestComplete. Simply enter your website URL in the tool and within 30 minutes, you will have full report about which browser versions your website needs reworking on.

Correct working of forms
Forms are important in capturing leads for business. Prospects show their interest in your products/services by submitting enquiry and contact forms.

You must ensure there are no script errors, forms display and submit correctly on both mobile and desktop, confirmation emails (or welcome emails) are sent promptly and correctly to prospects, and if you tend to receive a lot of spam, be sure to add a CAPTCHA as well.

As a test, populate your website forms and submit them to check that the respective set up processes for their submission are working correctly.

A rule of thumb to gauge forms' effectiveness is that if you are frustrated in negotiating through & submitting your forms, chances are your audience is frustrated too! Keep it simple and precise. Start with as few fields as possible, and based on the quality of enquiries you're receiving, add more fields to help gauge the veracity and genuineness of prospects.

Backing up the website
This is one of the most business critical website maintenance tasks. A number of things can potentially go wrong. Your website or hosting backend gets compromised, website updates mess up the functionality or display, or through human error you lose important data.

Automatic backup of website files and information (preferably on Cloud), at least on a weekly basis, is essential to ensure that you never lose data or have to rebuild webpages from scratch (in case of failures or downtime).
Monthly Website Maintenance Checklist
Reviewing SEO statistics
Analyzing your website's metrics like the average session time, click through rate, bounce rate, time to load, time on page, goal conversions, exit rate, page per session etc. gives you an idea of how your site is faring online.

These metrics are like a compass to aid you in tuning the business to propel it forward on the right path.

You can use Google Analytics to review your monthly site statistics and identify aspects like:

Which pages or posts got the most hits?
Why a particular piece of content was more successful than others?
Where did most of your traffic come from? Web or mobile, social or search, through ads or organically
Can certain changes on your website make your business more visible among the online crowd?
How many new users registered on the website?
What were the conversion rates of your various site objectives?

Check website speed
Next item on your monthly website maintenance checklist should be checking the site load time.

It is a no brainer that online users don't want to wait for slow-loading websites. In fact, they expect your site to load within 2 seconds.

You can use Google PageSpeed Insights to check your website's current load time. It shows speed metrics as described in the picture ahead.



Not just that, it also describes the potential time savings you can achieve after implementing the recommended suggestions on your website.

Some of the tips to decrease site load include reducing the redirects, optimized images, limited HTTP requests & enabling browser caching. You can learn in detail how to land a perfect page speed score for your website.

Update the website copy
Assume you have an e-commerce website selling electronic gadgets. As an extra, your website used to sell smartphone covers as well in the past but it is not so anymore and you have not updated the website copy.

Now, a customer comes along & browses your site for smartphone flip-covers, decides to buy a flip-cover for but later on comes to know that the website is not selling those flip-covers anymore.
The customer would be miffed obviously and you'd witness a missed sale.

Briefly, your website copy must change as your offerings change. This is more difficult to keep track of on larger websites with 1000s of pages. Find & replace and internal website search can help find outdated or irrelevant content.

Review website security
Cyber threats are evolving rapidly over time. New malwares do rounds over the Internet every month.
Ensure that your website has latest security certificates installed & all loopholes are thoroughly patched.
A good practice would be to go through cyber attacks on other firms in the recent past and testing the resilience of your website against those kind of attacks.
Security scans at least once a month are necessary to identify vulnerabilities in the website architecture.
Yearly Website Maintenance Checklist
Need of website redesigning
Every once in a while, the website must be fine-tuned to map company's business goals & vision to the changing needs of its visitors & customers.

Assess whether your current website is:


Able to drive sales growth
Boosting conversions
Increasing sign-ups
Meeting monthly target of leads
SEO optimized
Reflecting your brand positioning
Able to accommodate new products/services
Adopts the latest HTML/CSS/JavaScript best practices

If your business is falling short of these goals, your website might need a redesign

Renew your website domain … well in time
It is essential that your website domain is renewed well in time. If your domain expires, all services associated with it will be stopped.
This will be a huge setback for your business not only in financial terms but also from the perspective of your website's users.
Avoid falling prey to such an embarrassing, not to mention expensive, scenario. Adding a domain renewal reminder in your calendar is a simple and effective idea.

Remove redundant content & pages
Online consumer behavior is highly dynamic. What worked for your business a year ago might not work for your business today.

Your website should present to the visitors latest products/services/values offered by your business. Eliminate the content that is not relevant anymore.

Re-work the website aspects to suit the present business requirements. Remove or redesign the pages which are not up to the expectations of potential customers.

If the pages are relevant but the CTR has become negligible over time, perhaps it is time to publish latest & more relevant content. Refresh the outdated information and update those blogs that are still pulling traffic after a year.

Keep up with technology
With time, new CMS platforms and coding technologies like Kotlin, React, AJAX, and Django etc. are evolving into new versions.
This necessitates altering/adding/updating website scripts to keep up with compatibility and competition for improved functionality and performance.

Submitting sitemaps regularly
A sitemap is your website's table of contents referring to which the search engines determine which pages on your website are important.

It is advisable to upload a new sitemap every time a new page is published on your website or extensive changes are made to the existing pages. Uploading a sitemap yourself by logging into Google Search Console gets your content recognized and indexed faster.

Update the dates on your website
Often brushed aside as something trivial, not updating the date can have unwanted consequences.

Assume you are a potential customer in need of a digital marketing services provider.

Out of the many options, you select one service provider and visit their website. Their website seems informative & pleasing to the eye until you scroll to the footer which says 2017.
Unsurprisingly, you would be put off instantly, thinking that the service provider is no longer in operation.
This is how many business opportunities are lost due to ignoring of seemingly trivial yet important website aspects.
Adhering to website health checklist keeps your website running in a well-oiled condition.
If you are looking for assistance in ticking off some of the items in your website maintenance checklist, or need help with creating a new list of website tasks, General Data has years of expertise in Web Design & Development in .NET & PHP as well as an in-house dedicated Digital Marketing team to assist you.
We are also proficient in developing Web 2.0 layouts & features, and implementing JavaScript and AJAX to make your website more responsive, relevant and appealing to site visitors.
Do check out our portfolio and feel free to contact us.