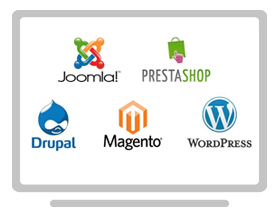 As important and complex as conceptualizing a website might be, its all for naught if the content on the website isn't easily manageable. Websites today need to be regularly updated with fresh content in order to maximize visitor engagement. An overly static website tends to be considered stale, and one of the primary reasons for this stagnancy is the difficulty faced by a non-technical, layperson in updating the website content him or herself. Realizing it is important to create a web presence in today's day and age is one thing, but keeping that very same presence current, relevant, engaging and objective-driven is a task in itself. If you agree that website content should be actively managed, and managed easily and effectively, what you need is a CMS or Content Management System – the term given to extremely strong web-based software platforms designed to help owners manage their website design, functionality and content.
A Brief Understanding of CMS
A website Content Management System enables you to add and edit content via a graphical user interface (GUI) directly to your site from any computer connected to the Internet. This easy-to-use system enables your team to add new pages, incorporate rich media and edit existing content when needed with the use of an effective visual editor, as opposed to having to manually write lines of code.
Some CMS Features
Hassle-Free Adding And Editing Of Pages and Content


A CMS allows you to add, edit, delete and arrange webpages on your website without requiring any technical knowledge, in just a few simple steps.
WYSIWYG (What You See is What You Get) editors give you great control over your content. Just like word processing programs, you can stylize your text and add images and change their sizing and placement on the page. WYSIWIG editors allow you to do all this without needing to know HTML & CSS – the two core components of Web Design.

Asset Management


Just imagine how difficult managing your website assets could get as it grows in size and scope. As you make changes, your assets morph. Sooner or later you're inevitably left struggling to figure out where they're stored and which version is current. A CMS also allows you to manage website files, images, videos, plugins, page templates and more effectively. Any documents you might want to make available for download, image galleries, feedback forms and corresponding databases, plugins, are all easily trackable and editable, so you always have a snapshot of all your website assets. Version control makes it easy to identify the latest iteration of every asset.

Tiered Permissions


Tiered Permissions allow you to manage levels of access granted to various users of the CMS. Multiple people might be involved in the upkeep of a given website. You can assign privileges on a granular level so people can only access the sections they require – like editing the blog, the website's static content, adding new pages, moderating a forum, performing SEO functions like Titles, Descriptions and other Meta Data, etc. This ensures nobody – either intentionally or by mistake – changes a component of your site they're not supposed to.

Template Creation


By using a CMS, you get full control over your webpage formats and designs using theming modules. While you're getting the website built, you can ask the developer to create templates for you, which you need to simply fill in later using the WYSIWYG editor provided. The webpage design, text typefaces and styles, image placeholders, transition effects, etc. can all be assigned to an editable template.

Readymade functional plugins


A major advantage of CMSs is the massive repository of readymade plugins that are available for download and use. CMS plugins – especially for the open sourced CMSs - tend to be crowd sourced, so there's a very good chance that you can find multiple plugins for any particular functionality you wish to incorporate into your website. This is far simpler that hard coding, which requires starting from scratch and due to testing and trial & error can lead to a significant increase in development time and cost. Many excellent plugins are very cheap or even free, which negates any need to reinvent the wheel (for example, Yoast SEO plugin allows you to control all On-Page Search Engine Optimization related tasks for your website). They're also always updated and as web technology changes, new plugins keep cropping up.
The best way to manage a website today – in terms of development as well as structure – is by building it on a CMS platform. General Data P. Limited works on all the major open-source CMSs – Joomla, Drupal, Magento and WordPress. We've migrated many non-CMS, pure HTML websites onto a CMS, and done custom CMS website design and development from scratch for Indian and international clients as well. Contact Us for more information on website design and development using a CMS.