Google constantly tweaks and refines its search algorithms, and once in a while – as they did recently on April 21st, 2015 – they implement a significant departure from existing procedures. The April 21st Google Update was mobile-centric – it aims to stress the importance of mobile-friendly web design in today's day and age. Today, the world comprises more than 1.5 billion mobile Internet users, and roughly 80% of Internet users own a smartphone. This shift in web usage patterns has prompted Google to issue a warning of sorts to webmasters – make sure your websites are mobile friendly, else they might not rank as well in search results. The search engine will not block or remove the site for not being optimized for mobile search, but mobile searchers won't be able to find you easily and chances are, you'll rank lower in search results.
Fear not though, they haven't left it as ambiguous as 'make your website mobile-friendly…or else'. They're very helpfully offering two fantastic tools that allow you to test your website and see how well it performs on mobile devices:
These two tools help you understand how mobile-friendly your website currently is and offer concrete steps you can take to correct any shortcomings. Here's a sample test, which we did for zento.in – the informative website for our Employee Expense Management System – Zento: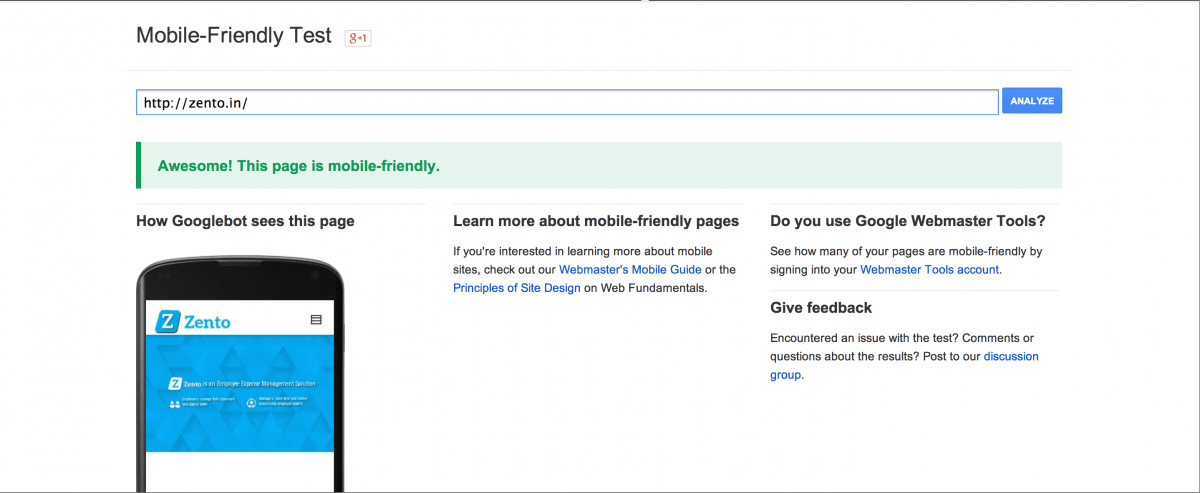 A couple of things to note about this latest Google mobile-friendly algorithm update:
It will only affect website rankings on mobile devices – which does not include tablets
If your website is currently not optimized for mobile, don't worry. You can make the changes even now, and Google will automatically re-crawl and re-index your website and update your rankings.
This is probably the most concrete mobile-centric change made to search by Google. They're being very straightforward in stressing the importance of responsive or mobile friendly web design from a search engine ranking point of view. At General Data P. Limited, we create mobile-friendly websites as well as try to optimize earlier websites for mobile. If you'd like to learn more about this latest Google update or about how your website can be optimized for view on mobile devices, do get in touch with us.