Even today, around 90% of all corporate information resides on paper. Operating and maintaining a paper based filing system is quite common in real estate firms, law firms, medical practices and lending companies.
Law firms, for instance, are inundated with piles of physical files about clients' cases. As every case progresses, tracking becomes difficult and paper keeps unnecessarily building up.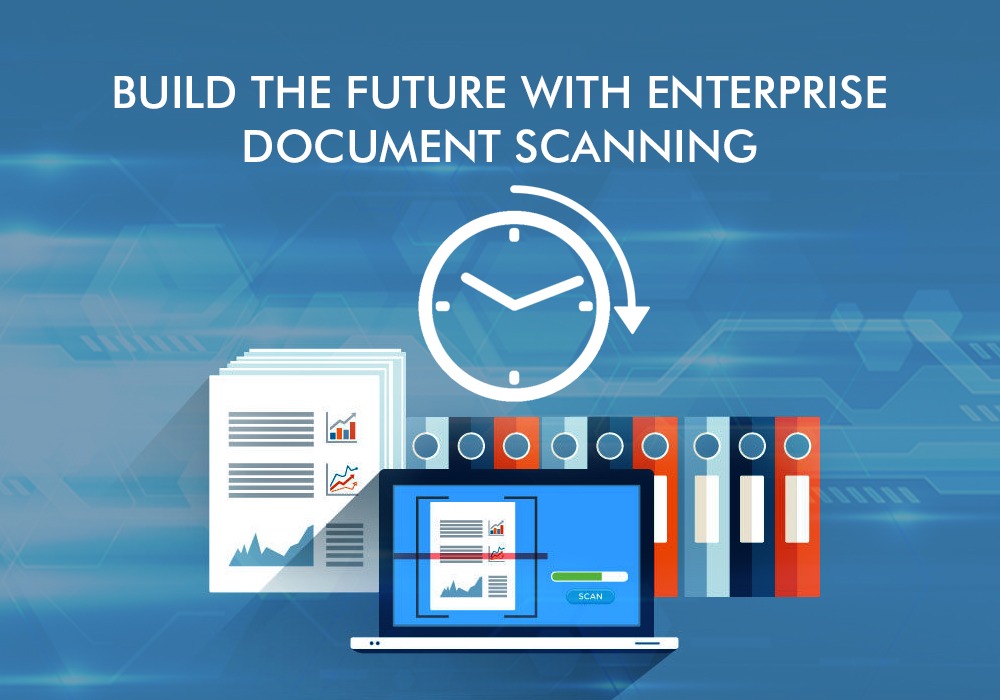 Magnitude of the Problem
According to research by PricewaterhouseCoopers:
90% of all the pages handled each day in the average office merely get shuffled without deriving significant business insights.
Companies spend $20 to file a document, $120 in labor to find a misfiled document & $220 in labor to reproduce a lost document.
7.5% of all paper documents get lost and 3% of the remainder are misfiled.
For a considerable amount of time, workers are left looking for the information they need to deliver their output.
As per the findings of McKinsey Global Institute, 19% of the workweek is spent by workers in searching for and gathering information.
Role of Document Scanning for Enterprise Level Business
Managing the sheer volume of documentation in paper format is not just time-consuming but also, unfortunately, error prone.
Most importantly, it is the expensive corporate space that is redundantly occupied by physical files and cabinets.
Document scanning services are a full suite of functionalities that convert paper-based records to electronic formats which can be specifically indexed and then stored in a structured document management system.
In simple terms, it turns your paper piles into fluid & dynamic archives.
Enterprise document scanning not just supplements a content management solution but it can also be used independently of other business processes if needed.
For instance, banks receive a substantial number of paper-based loan applications. These applications can be converted to digital files and stored centrally.
Additionally, an AI system can determine the creditworthiness of an applicant by processing the information contained in the digitized application.
According to Gartner, a majority of the cost and value around paper documents is the onboarding and servicing of client accounts.
Digitizing these paper documents yields benefits such as client retention, quick time to value, improved profitability etc. Unlike earlier, customer journeys which began on paper now begin on a web or mobile app.
7 Benefits of Document Scanning for Your Business
Here are seven core benefits that a document scanning service can render to your business:
Information persistence & disaster recovery

Information loss owing to a disaster is the biggest threat any business faces. According to Gartner Inc., 2 out of 5 organizations that experience major data or records loss due to a natural or man-made calamity go out of business within 5 years.

Companies that have stored electronic backups of their paper records off site, have higher likelihood of organizational survival in the eventuality of any disaster, making document digitzation essential in disaster recovery (DR).

Such companies can have their documents restored from backup copies within a few hours and resume operations. Once a document is digitized and stored centrally, it can never be lost, provided it's hosted on a safe and secure system.

Document retrieval

Storing digital formats of physical files makes it effortless to search & retrieve them within seconds from your device, irrespective of your location in the world, via an internet connection.

Even archived digitized files containing years of historical data can be readily made available on an ad-hoc basis.

You can access not only key index information but also practically lookup every word on every page of the entire document repository.

Version control

Do you recall the example of law firms that we stated at the beginning?

As the cases progress, the associated paperwork keeps changing & growing. Tracking those changes manually over months and years is daunting to say the least.

Digitally scanning those case papers compresses hours of manual tracking into a few seconds of clicking.

You can even tally the changes pertaining to many cases side by side, version by version.

Document collaboration

Physical file management systems don't allow simultaneous sharing of a file by multiple users. The only way is to create physical copies, which results in unnecessary expenditure and decentralized editing. Digitization of documents vanquishes this issue.

Users can collaborate to process the digitized information, share updates with few clicks & resolve issues rapidly.

If one user flags some content in the digitized file, others get notified of it promptly. No one has to leave his/her desk to seek an explanation from a colleague about a file.

Reduced filing times & storage space

Earlier, document filing used to take anywhere from hours to even days owing to the manual filing process.

Now, once a physical document is digitized and indexed, filing becomes a cakewalk.

Also, the floor space occupied by huge cabinets is vacated for other productive usage when physical files are stored digitally. Roughly 20000 pages of information can be stored per GB and a 50GB hard drive costs under $50. Talk about cost efficiency!

Security & restricted access

Information security can't be emphasized enough. Digital storage of physical files through a document management system allows administrator to grant privileges to specific sets of users, from anywhere with an internet connection. Access rights management – read/write/edit permissions - augments security (at multiple levels) of the digitized information.

Additionally, every access to a document, in fact every digital footstep of a user, can be traced easily – a silent sentinel for preventing any data security breach.

Document delivery

There were times when mailing physical documents took days. On the other hand, a digitized document can be printed, faxed or emailed to anyone within seconds, in any part of the world, without any loss of quality (as opposed to faxing).
The document management system offered by General Data can modernize & digitize your digital ecosystem. Our enterprise document scanning service can digitize your paper documents in hassle-free way.
You can scan your paper documents and send them to us. From there, we will accurately digitize those scanned copies with Optical Character Recognition & then migrate the digitized documents to a secure Cloud storage. Our document management system empowers you with version controlling, simple workflow designing, LDAP & DBMS integration & many other features.
For more information on how we are enabling organizations to transform their documents handling & processing, feel free to reach out to us.