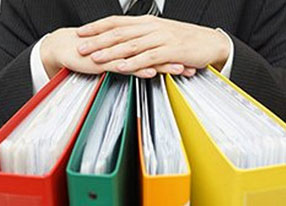 The ease with which your company manages data and records depends on its Information Management (IM) strategy. This strategy must also support continuous growth in your information management practices – as technology and best practices evolve and enterprise data volumes grow. Corporate records and information are core organizational assets, and effective strategies ensure that your practices result in efficient record keeping that cater to your various stakeholder and compliance needs.
The following factors are important considerations when determining your Information Management strategy:
1. Solution Architecture:
The Record Management System (RMS) must be future proof and efficient in terms of optimizing space – physical and digital - available for storage and minimizing human input. It is important to establish an orderly, systematic workflow and consistent retention, creation and disposal procedures for documents and records throughout their life cycle.
2. Information Quality:
The records themselves must be accurate and error-free so they can be used during operations without hesitance. The IM strategy should also facilitate record authenticity and validity so that any further evidence derived from these records is clearly authoritative and credible.
3. Accountability and Responsibility:
A clear hierarchy of decision makers and personnel involved in the implementation of an Information Management strategy must be defined and agreed upon. Directors, CIOs, CFOs, other CXOs and VPs must all be on the same page as to what the actual expectations of the IM strategy are and who is responsible for each scope of work.
4. Regular Auditing:
Performance audits of information management strategies must be carried out at regular intervals of time. This helps measure actual performance against agreed standards. An audit schedule interspersed with surprise checks for various functions like data storage, document requisitioning and metadata handling significantly helps in keeping IM practices on track, which in turn also facilitates GRC (Governance, Risk Management and Compliance) activities.
5. Access:
Access Rights Management is another key aspect of any Information Management strategy. It is important to chart out which personnel have access to what information and enterprise content. Further, a comprehensive Enterprise Content Management System (ECM) allows you to really drill down and manage access rights. You can specify which individuals or groups have access, edit, view only, copy, print, share and other record handling rights.
6. Security:
All records must be stored securely in order to protect authenticity and confidentiality of their content and also to provide irrefutable evidence of their validity in the event of legal proceedings. For physical records, this means having strong infrastructure at storage facilities and adhering to stringent policies, and for digital records, the IT infrastructure and security protocols must be best-in-class and always up to date, with built in redundancies and disaster recovery (DR) controls.
7. Training:
An effective information management strategy involves employees at all levels of an organization. Proper guidance and training programs help employees understand and implement defined policies and ensure the overall smooth functioning of your IM operations.
We hope this primer helps you take the right factors into consideration when defining or amending your Information Management strategy. As a provider of end-to-end Information Management Services, General Data Private Limited can help you translate your objectives into implementable strategies. Do get in touch with us at This email address is being protected from spambots. You need JavaScript enabled to view it. to find out more.