Business email, communication, collaboration, productivity has come a long, long way over the past few years. We don't have to put up with slow business mail solutions, instant messaging applications that keep hanging, and local calendars we need to keep copying from and sending back and forth to synchronize meetings with other people. Also, we're not restricted to incredibly small mailboxes measured in MBs or low, single digit GBs anymore.
Premium Business E-mail and productivity solution providers like Google have created amazing, intuitive solutions that take care of the above functions, and many more, seamlessly. Loading times are fractions of what they once were, always-on SSL encryption and single sign on (SSO) features have increased security multifold, and all this has become incredibly affordable. That's why Google Apps for Work is used by over 5 million businesses worldwide – ranging from single-user professionals to social institutions, from SMEs to large global enterprises.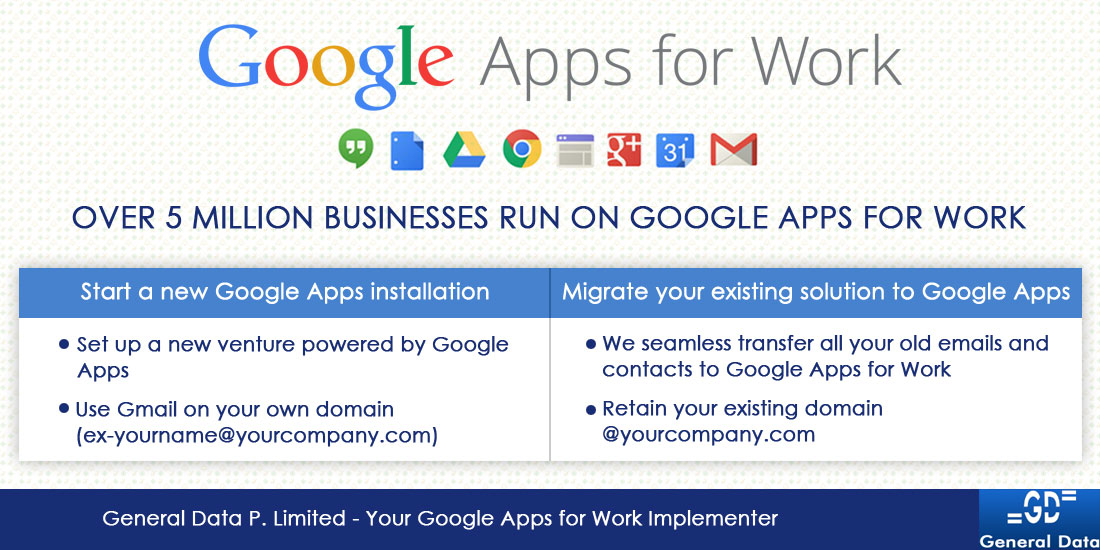 That's where premium, authorized Google Apps for Work Partners and Resellers like General Data P. Limited come in. We're enlisted to help you make a seamless transition to Google Apps for Work, and help you make the best use of the solution for all your business needs.
A growing need
More and more companies are approaching resellers to swap their outdated legacy technology for the latest offerings, like Google Apps for Work. With 99.99% uptime, you know your email and collaboration service will never adversely affect your business due to downtime.
Justifying the need
Google's suite of business applications undertakes and executes essential productivity functions in any business. The packages offered by resellers help reach an array of audiences in remote corners of the world- a feat that might otherwise be impossible to achieve.
App Service
Google app resellers like us come with the promise of offering the latest,comprehensive suite of business apps and an assurance of being able to satiate diversified, complex needs with just one arrow from the quiver. Speed, reliability, security, storage space are all in the palm of your hand. We help you get the best out of the solution.
The Product
At the core of Google Apps for Work is Gmail - which uses high-end spam filters and storage infrastructure specially developed for professional & business use. The apps also include specialized provisions for creating, storing as well as sharing information among the members of a business family with the help of technology. There is a heavy emphasis on collaboration and synchronization of information. It's also compatible with most devices & operating systems available today, which is a great feat considering just how many there are.
Google Apps for Work instills a sense of confidence in users, that this one single point of login enables them to do so many things. General Data P. Limited is an authorized Google App Reseller based in Mumbai but doing Google Apps implementations all over India. To learn more about Google Apps for Work, click here or get in touch with us.