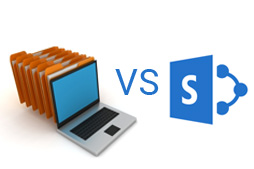 Some organizations wonder whether Microsoft SharePoint can solve their Document Management needs, and whether a dedicated Document Management Solution (DMS) is actually required to manage their data and corporate records. When an organization's objectives are very basic, and factors like e-governance adherences, long-term retention policies and robust security measures are not core requirements; it might be able to make do with Microsoft SharePoint. However, it's important to realize that SharePoint is actually designed as a collaborative platform, not as a Document Management Solution.
This means it's suitable for handling documents that workgroups and teams need to access, edit and work together on. However, it isn't optimized as a permanent Records Management Solution (RMS), that is, one where files need to be stored and accessed for long periods of time, but must remain safe, secure, and intact. Furthermore, core DMS's are often far more cost effective for SMEs and enterprises than a collaborative suite like SharePoint when you take into account licensing costs, hardware setup and workflow & process customizations.
Collaborative Document Management versus Records Management using a DMS
Think of document management as a generic term that needs to be supplemented with defined objectives before functional requirements can be drawn up. So, to understand a document management solution, a firm understanding of what kind of solution fits is necessary. In this case, a collaborative solution (SharePoint) is being compared to a more permanent and structured, document management solution (DMS).
SharePoint is, as mentioned, a collaborative document management solution. It's been designed to accomplish the specific objective of helping groups and teams collaborate on shared documents. However, much like Lotus Notes, it is also a foundation that can be customized and built upon. So it can be made to perform a number of document management tasks and functions over and above its core competency as a collaborative suite, but is this the best way to manage permanent records and documents?
DMS, or permanent document management solutions, are designed to store large volumes of documents & records and make them accessible to various stakeholders on a rights-managed, as-needed basis throughout the organization as swiftly and effectively as possible. It has very strong version control and metadata indexing capabilities, robust security and Disaster Recovery (DR) and Disaster Management (DM) protocols inbuilt, prevents duplication of data and utilizes IT infrastructure optimally.
This side-by-side comparison should help point out some of the key differences between these two types of document management solutions:
| | | | |
| --- | --- | --- | --- |
| | DMS, or Records Management Solutions | | SharePoint, or Document Collaboration |
| » | Management of files/records and management of the storage infrastructure take precedence over content of individual records | » | The focus here is the contents of documents required at that point of time, or for a specific project or purpose |
| » | The actual record doesn't change, though its properties might | » | The contents of the document change constantly. This is, in fact, the core feature of collaboration |
| » | Access control and user rights management are important functions of records management | » | Collaboration is impeded by the complexity of access controls. Oftentimes, the fewer controls, the better |
These document management programs have different goals and therefore are optimized differently. Certainly SharePoint has a very real place in many organizations as a way to collaborate on shared documents on a project or task-oriented basis, but an organization will still need a robust document/records management solution if the objectives are the storage, archival, retrieval and security of all files – format independent – for the long term.
Counting the cost of ownership
As with any business expenditure, the bottom line remains central to making the final decision. Because of the complexity of implementation and high up-front costs of SharePoint, it is often not a financially feasible option for most small and medium size businesses. SharePoint Licenses must be purchased for each user and server, and those servers tend to be quite expensive due to the complexity and requirements of the solution. Besides this, companies must rely on "SharePoint experts" to deploy, maintain and train users – all of which drive the Total Cost of Ownership (TCO) up. When it comes down to it, SharePoint costs much more than just the license fees.
In contrast to SharePoint, there are many DMS solutions on the market designed to meet the needs and the budget of small to medium sized businesses. Many of these can be scaled with growth or have enterprise edition counterparts. DMS's provide all the flexibility and power that a true permanent records management product should offer without the need for consultants and expensive hardware purchases. Additionally, SharePoint is a Microsoft product and does not support all the third-party add-ons, servers, databases, and other products that most DMS solutions support due to the closed, proprietary nature of the ecosystem.
In Conclusion
Businesses in need of a collaborative document management solution should look into SharePoint and its powerful, complex suite of features that specifically augment productivity. DMS's/RMS's – either by themselves or integrated with SharePoint's collaboration tools – offer a long term document management solution to effectively store, archive, retrieve organizational data and information.