Digital Marketing activities are crucial for companies from the hospitality sector, whether their objectives are B2B or B2C. By Employing a combination of paid and organic digital marketing activities, you can build your brand, engage your audience, increase online traffic and optimize conversions – whether signups, enquiries or direct sales. Here we explain how some of the crucial activities that fall under digital marketing – Search Engine Optimization, Search Engine Marketing and Social Media Management – are essential to grow your hospitality sector brand.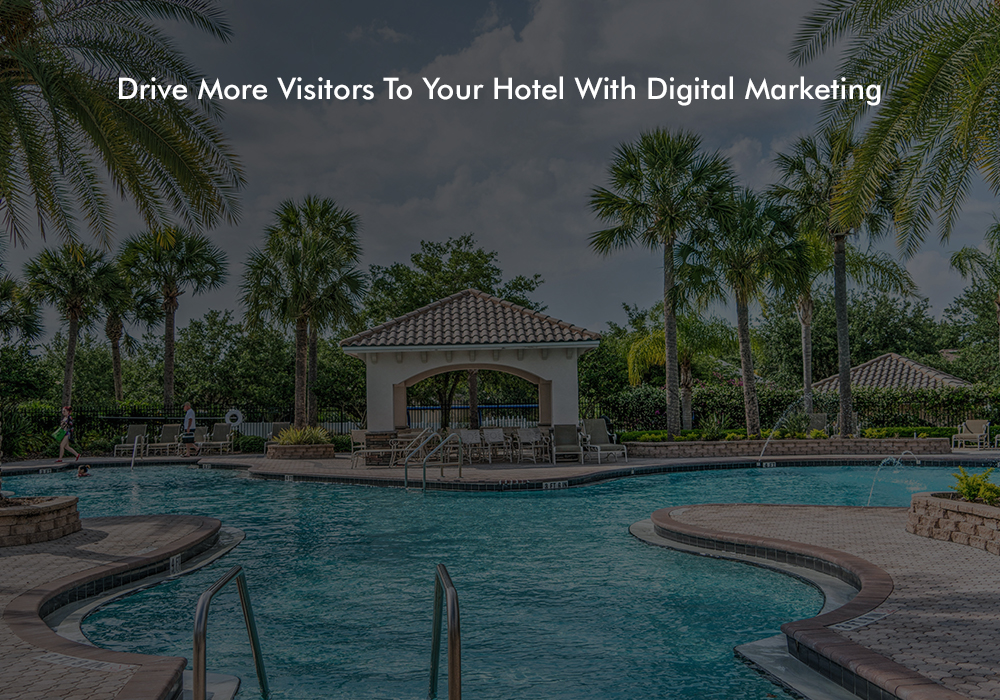 SEO (Search Engine Optimization)
Search Engine Optimization (SEO) is the process of making a website easily 'readable' to search engines, through a combination of on-page and off-page activities. SEO is an on-going process, which helps to increases the authority, visibility, and presence of a website organically in search engine results, when people search for terms related to the services/offer you provide and the content on your website.
The Essentials Aspects Of SEO-
Metadata
Metadata is responsible for informing search engine crawlers what your website is about, and the type of content that is being served on individual pages. Optimizing metadata like page titles and page descriptions are an essential part of On-page SEO. Active management of meta data becomes more and more important as the scope of your website grows. Your metadata is important because not only it informs crawlers about the content of your page, but also because it often appears as page preview text in search engine results.
Backlinks
Backlinks refer to inbound links to your website from external web domains. These links are crucial to the SEO of your website. Backlinks on other websites referring to your site are an absolute necessity, they indicate to search engines that other independent domains consider your website to have relevant, useful content, which increases credibility. However, it is also important to remember that more isn't always better, quality of the backlinking website and link relevance are important factors.
Keywords
You want to rank high for keywords that are relevant to your offerings. For example, if somebody searches for 'best hotel in Mumbai', you would probably want your hotel to show up and leave an impression. There are many considerations to take into account when formulating a keyword targeting strategy, especially for industries like the hospitality sector, where location based results become extremely vital.
Keyword Rich Content
Having a blog with essential keywords seeded within the content is necessary so that Google can contextualize your website. Search engine algorithms have evolved enough to reward or penalize websites based on how well the content on a page matches the metadata as well as how relevant the content actually is to visitors. For example, on a hotel website, having content related to the locality, activities in and around the hotel, weather and anything that might help visitors will have a great positive impact on SEO.
Rich Snippets, Schema.org
Rich snippets from Schema.org help in labeling the HTML of your hotel's website so that search engines, including Google, Yahoo, and Bing, can better understand the content of your website and present snippets of it in different formats in search results itself. There are numerous benefits to using rich snippets, including a more attractive look of your website on the SERPs and an increased clickthrough rate.
Listing Your Hotel On Popular Business Listings
Much like online travel agencies, sites like Google My Business, Trip Advisor, Yelp and other business directories help with visibility as well as the link building component of SEO.
SEM (Search Engine Marketing)
Ever noticed those first two listings when you search for something on Google that carry little 'Ad' tag? Those are paid google search results. Through paid search campaigns, you can bid on keywords, and based on your competitor's bids, 'buy' ad space in search engine results. Since searchers are far more likely to click on the first two to three results, paid ads tend to be a very effective strategy to drive inbound website traffic.
Google Hotel Ads
Google Hotel ads can be integrated directly into your data feeds to be automatically updated based on open inventory and the amount you are willing to spend to fill your rooms.
Location-based keywords as well as the popular "near me" key phrase have been on the rise for a few years and are extremely effective to optimize for due to their high relevance. This usually results in higher quality scores, lower costs, and more relevant ads for users. If somebody is on the move and searches for food nearby, and your restaurant happens to be in that area, your ads tend to have a far higher chance of conversion.
Phone, Price Extensions
Phone extensions within ads can increase clickthrough rates by 5% because of how direct the call-to-actions are. Some users still prefer to book over the phone rather than trying to navigate a reservation process on their cell phone or computer. A price extension is only available for first place ads but is a great way to ensure better engagement.
SMM (Social Media Marketing)
In the digital age, one of the best ways to spread the word about your hotel, its amenities, and offers & events, is through social media. Formulating a comprehensive social media marketing strategy will help you spread awareness of your brand and positively engage new and returning customers.
Facebook
Invest in Content and Promoted Ads To Reach A Wider Audience
With Facebook's monetization model, it is incredibly hard for pages to show up in feeds organically, although that does not mean you should ignore organic posting. Over time, you can build your audience and make an impact even organically. However, if you really want to target potential new customers, you will have to invest in paid advertising. The impact is immediate, and with flexibility in budgeting, you have complete control over your ad spends.
Leverage Facebook's Demographics Data To Run Targeted Campaigns
Although privacy and data retention policies have significantly changed the ways in which Facebook shares and allows advertisers to leverage user data, there is still a lot going on under the hood, which allows advertisers to effectively target their audiences on Facebook. Ads can be targeted based on location, demographics, interests, behavior, connections and more.
Encourage Check-Ins and Reviews On Facebook
Being in the hotel business, you should also encourage guests to use location tags and check-ins on photos and videos. This data is used to create destination content that takes into account location tags and reviews.
Instagram
Instagram is a visual-based social network that all hotels should be using more of. Images of hotels and restaurants with all sorts of filters and effects proliferate Instagram. There's no substitute for the visual impact these beautiful images of exotic locations have on viewers. They are shared, liked and commented on, rapidly spreading awareness and call-to-actions. Instagram usage is growing at a rapid rate and is considered a very effective platform to advertise and engage visitors. Facebook owns Instagram, so it is easy to set up paid campaigns on both platforms simultaneously.
What Your Posts Should Be About
Once you have set up your Instagram account, think about what distinguishes your hotel or restaurant from the rest. Post about your strengths and what makes your hotel unique! Also post about any happenings and events taking place at your location, regular updates show that you are an active, bustling business.
The Periodicity Of Your Posts
In general, the more you post the better. However, a fundamental mistake many Instagram handles make is to mistake quality with quantity. Post relevant, interesting content. Do not post too many 'fillers' just for the sake of it, people tend to unfollow handles that make them scroll unnecessarily due to low quality posts.
Use Smart Hashtags
Hashtags are one of the most effective ways of getting new Instagram users to find your account. Search for smart, trending hashtags through a mixture of awareness of what is happening as well as effective trend discovery tools.
Insta stories
To create successful Instagram stories, the key is to stay true to the personality and style of your business. Stories last 24 hours then disappear; they are mini doses of entertainment, updates and information that followers scroll through with steady regularity.
Twitter
Post Tweets That Are Likely To Get Noticed
You do not want to lose subscribers with incessant sales, but most people follow brands on social networks specifically to receive promotions and discounts. It is best not to disappoint them.
Incorporate Rich Content
Imaging can be an effective way to attract attention. Use photos and videos to present your offers visually and more convincingly.
Incorporate Tweeting As Part Of Your Customer Experience
To encourage customers to use Twitter when at the hotel, you can print your Twitter ID on key cards. Replying to positive tweets and responding to criticism is also a good approach
LinkedIn
LinkedIn for Smaller Hotels
As a small hotel, you may not have a dedicated resource for managing your social media accounts, but it is important to maintain a presence on LinkedIn. The number of posts is not as important as your regular presence on this social media channel.
Build Your Brand & Community
It is imperative that hotels create their own business page, where they can list their brand and give an overview of what they has to offer. Find groups that complement your hotel profile, such as local attractions, and travel/lodging groups, to build your community.
Cultivate Good Relationships
Connect with event planners, wedding planners, and anybody who can bring fetch you more customers. The potential is endless.
Email Marketing
Email marketing is the channel with the highest return on investment, regardless of the type of industry. This should be one of the top priorities of your overall marketing approach. The best way to leverage email marketing is to have a drawn out strategy over a period, to communicate seasonal offers and promotions, update visitors on their booking information and other useful information pertaining to their trip, and solicit feedback from time to time that is vital to make ongoing improvements to your processes and services.