In order to drive potential customers to your site, you need to optimize your Search Engine Marketing (SEM). It's too beneficial a marketing channel to miss out on due to its effectiveness and relatively low costs per acquisition. Pay-per-click (PPC) campaigns are the best ways to inorganically market your products online. PPC campaigns tend to be a mix of Text ads akin like Google AdWords – those yellow-boxed search results you see when you search for something on Google – and banner ads – graphical ads that appear on websites as you browse through them.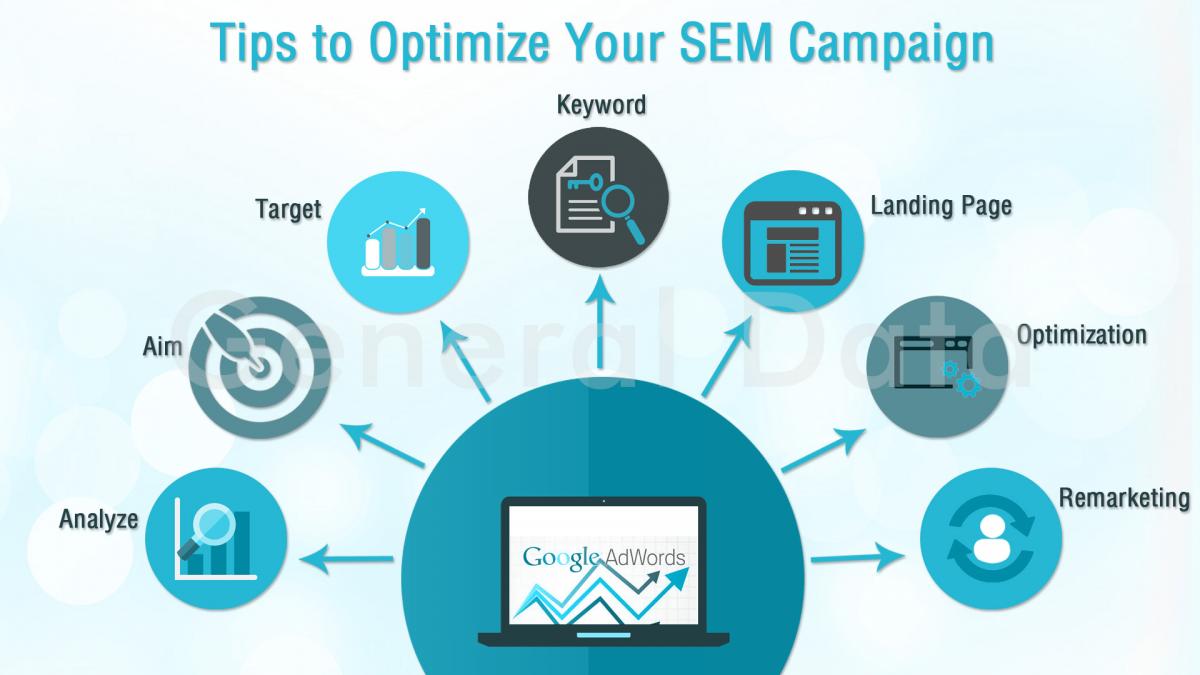 Running a PPC campaign to generate traffic and leads is not enough in itself, you need to optimize your campaigns to maximize your return on investment (ROI).Campaign optimization means you generate more views, more leads and more sales through your campaigns, at the same or lower cost.
Here are 9 tips to keep in mind when optimizing your Search Engine Marketing Campaign:
Define the aim:
It is important to setup goals for the PPC campaign you wish to run. This isn't an abstract, manual sort of setup. Setting goals from an Ad management suite like Google AdWords is helpful as it allows you to later filter, drill down and analyse many campaign metrics. SEM is a trial and error process by nature, for which continuous optimization towards your end goals is essential.
Use Dimensions on Google ad words:
The Dimensions tab in the AdWords control panel is a very useful feature that often goes unnoticed. It gives you broad overviews of your existing campaigns according to different filters. Dimensions are statistics related to your campaign that cut across different metrics and AdWords tabs. You can dissect your account in multiple ways here:
by time
by conversions
by geography
by search terms
and many, many more
Each metric gives you insight that can help optimize your campaign further.
Refine your keyword list:
You need to choose keywords that are relevant and useful. You'll want to specifically optimize bids on individual keywords that generate high CTRs, and delete keywords that either have low CTRs or, more importantly, irrelevant click-throughs that aren't resulting in conversions.
Always set your maximum CPC targets:
Maximum CPC is the maximum amount you are willing to pay for each click. The exact amount depends on a number of factors: the competition, the suggested bid, your campaign goals - visibility or conversions - which will also determine return on investment (RoI) expectations. While generally you'd want to spend a small fraction of your sales margin on the advertising cost, you might occasionally be willing to take a hit on initial returns to gain traction or out muscle your competition.
Test ad extensions:
Along with placements, ad extensions are also critical to PPC optimization. Ad extensions are additional pieces of content relevant to what your ad is trying to convey. These might be location information, special offer information, a direct click-to-call button from the ad itself, among others.
Make landing pages ad-specific:
A common mistake marketers make is creating generic landing pages for all their ads. Hence, when the user clicks on the link he/she comes across irrelevant content. This not only results in users bouncing from your landing page, but also reduces your Ad Quality score – which is automatically calculated by Google based how relevant your landing page is to the keywords you're targeting. This results in lower ad placements and higher costs per click. Ad-specific, relevant landing pages are essential to minimize bounce rates and increase quality scores.
Run re-marketing campaigns:
Re-marketing campaigns have been proven to increase the ROI for many businesses and are almost always profitable. When your visitor has come close to a purchase, or shows a pattern of behaviour that suggests he is interested in learning more, re-marketing campaigns ensure he is reminded of your offering, so when the time is right, he can get back to your landing page and maybe follow through with the purchase.
Continuously optimize landing pages:
Is your landing page fulfilling your visitor's needs? Does it hep them find the information or product they're looking for? Does the page load quickly or is it slow and heavy?You need to optimise your landing pages and test them. Experiment with different offers and call-to-action phrases to see what drives conversions.Run A/B testing to see which version of your landing page fares better. Concise, up-front content is an essential part of an effective landing page.
Keep yourself updated:
It's important to keep yourself updated with the latest AdWords updates. AdWords is continuously undergoing improvements, and here's where you can see monthly changes made to the AdWords control panel: Source Link
General Data Pvt. Ltd. is an Internet marketing agency in Mumbai that will help you prepare a detailed plan for your SEM campaign and create a start to finish strategy to help you sell your products and services online.Get in touch to learn more today.