Given how 2020 panned out with its after-effects still lingering, websites have become more vital as a marketing tool to keep brands established among their target audiences.
A strong company website clearly communicates everything about its business. It promotes all its current products/services, attracts prospects & ensures customer satisfaction.
Every once in a while, the website must be fine-tuned to map company's business goals to the changing needs of its visitors & customers.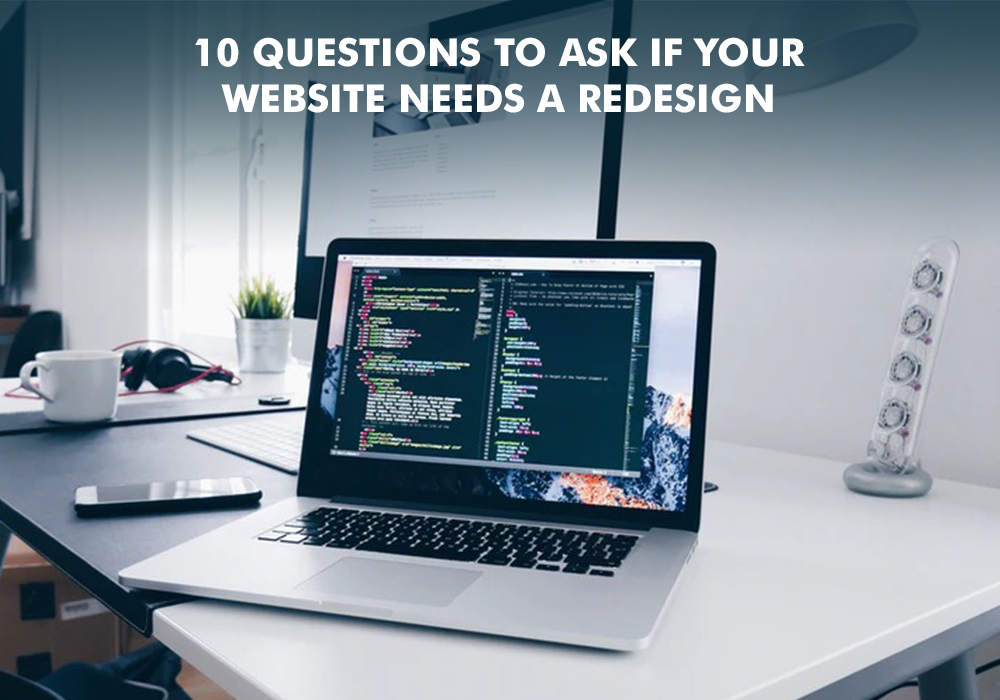 There can be various reasons for redesigning a website such as rebranding, increasing the website traffic, converting leads, enhancing site's security etc. Even a simple makeover of the website, like changing its color theme, can turn things around in favor of the company.
But before all that, you need to precisely identify why your company website needs an overhaul.
To prime you, here are 10 questions to ask before redesigning a website.
What business goals would be achieved by website redesign?

It is essential to grasp that redesigning a website is both commitment & investment intensive endeavor which can take few weeks to months.

It should solve problems and achieve very specific business goals such as:

Driving sales growth
Meet monthly target of leads
Boost conversions
Increase sign-ups
Reduce bounce rates
Better website navigation
Integrate new services/products
Improve security
Content update
Strengthen brand positioning
Addition of new functionalities

Formulate clear cut goals to be achieved through the website redesign and quantify them. It could be "boosting monthly sign-ups by at least 20%" or "raise social network sharing by 40% by year end".

If you feel your website needs redesign but can't place your finger on the 'why' & 'how', the team of experts at General Data, an organization providing web design and development services, will be happy to assist you.

A crisp website redesign questionnaire will help you to clearly grasp what has to be accomplished in the redesigning.

Is your website not truly reflecting your brand and its positioning?

Your website's content must not only tell the story and purpose of your brand to target audience but also clearly differentiate it from the competitor brands.

As soon as the visitor lands on your website, the brand intent must be clear as daylight to him or her.

For instance, when one lands on the home page of LinkedIn, one immediately gets to know that the website is about job search, building professional connections and learn new skills. Simple, highly effective design.

In order to create brand trust and loyalty, your website must imprint the brand's identity on its digital presence and it should also serve as a point of reference and source of validation for its users and visitors alike.

You must also include case studies and testimonials on the website to enhance the credibility of your business, increase the brand visibility and also tell the brand's narrative in a more compelling way.

Does your website fall short of maximizing SEO effectively?

Next in the list of website redesign questions is how effective the current SEO strategy is and how it will be imbibed during the redesigning.

Keyword research is vital to a website's revamp, more so when it is undergoing re-branding or a new service is being launched. A proper SEO audit should yield insights to build a roadmap to guide you in SEO content creation or updating an already existing content.Scrupulously plan for the keywords that each page will focus on which in turn would help to optimize the headers, on-page content, alt-text etc.
Identify what have been your website's top organic landing pages in the recent past and whether there is a page view threshold that suits your business. The pages below the threshold might require repurposing or updating (or removal/redirection, if unavoidable).
Referring to your business priorities, current page rankings & the keyword roadmap, your website might need new page titles and meta-descriptions which are integral to CTR.
You'd need to plan for on-page optimizations like including the SEO keywords in the h1 and h2 tags as well as in the alt text and landing pages, whenever applicable.
Minimized site loading times, enhanced content readability and proper set up of 301 redirects will always be the need of the hour.
Unless you are using a site hosting service, do recreate your website's XML sitemap which will enable Google and other search engines to crawl your pages more intelligently as per a hierarchy. Here is how you can create your sitemap.
Connect Google Search Console and Google Analytics during website redesigning. The Search Console will indicate which keywords are driving the traffic and also monitor site's overall performance.

These are some of the SEO aspects a website redesign company like General Data stresses upon.

Are you changing your products/services drastically or introducing new ones?

If yes, then get your website redesigned to support the new additions.

For instance, here is what Flipkart's page looked like in 2007:

As it is widely known, it started as an e-commerce company for online book sales. Next, they added new categories.

And this is what it looks like today:

Evidently, the brand architecture significantly affects your online presence. You must keep up with the evolving needs of the customers and accordingly plan the questions to ask before redesigning a website.

Is your website's content not generating/converting leads?

Use analytics to understand what your website's visitors are finding valuable on the pages and what they are ignoring. Identify which pages on the website aren't getting visited as per your expectations.

Your content might be valuable but if the visitors are not able to find it, then it is as good as non-existent and leads won't be generated.

Even if the content is relevant, a lack of strategic placement of CTA buttons on the web pages further worsens the odds of converting the users into leads.

It is advisable to use tools like Google Analytics or Heat Maps to gain insights about session duration, bounce rate, average time spent on a page etc. This will enlighten those aspects that'll need special attention during the website redesigning.

The content which is not working at all is expendable and must be either done away with or improved during the redesign.

Can your target audience find what they are looking for?

Your audience will drop-off if they find the website's content irrelevant or unhelpful. It requires some intuition to gauge your audience's needs from their online behavior on your website. Identify if the visitors are experiencing a knowledge gap when visiting your current website. It might be the technicality or complexity of the content which puts them off.

If the content presentation to the visitors is below par, they won't stick around for long. Visual appeal of the information matters. Increased bounce rate will debilitate the website ranking and its position in the SERPs.

Make it a point to include infographics in the revamped website to convey the content's intent more accurately. People relate with and remember visuals quickly and for longer times. Compelling storytelling through visuals helps retains users and can lead to their conversion.

What are the pain points of your website's users/visitors?

Typically, the users complain about the following aspects pertaining to the website:

High site loading times
Website rendering improperly on mobile devices
Unreadable or outdated content
Difficult and confusing navigation
Sign-up form not working properly

If you are unaware about the users' pain points, simply ask them using tools like Google Forms as short surveys. If your business has handles on Twitter, Facebook or Instagram, seek your followers' suggestions in a tweet or post. You can also send a special survey email to your mailing list.

Is website security an issue for you?

With emergence of new web technologies over the years, number and complexity of internet hacks have also grown.

Since July 2018, Chrome has been labelling HTTP sites as insecure for browsing. You risk to lose users if you don't make the switch from HTTP to HTTPS.

Ensure your website implements secure socket layer (SSL) and is protected with a web application firewall (WAF). You must know web browsers are actively discouraging users from trusting SSL lacking websites.

Has the current website become unmanageable?

Creating a custom solution to a website issue can take many hours which costs money. If your website's management at the backend gobbles up too many hours in bug fixing or if the website is not able to efficiently handle the transaction & online traffic load anymore, then do plan for an in-house website audit and redesigning exercise, or seek the assistance of a website redesign company.

What about the website's mobile responsiveness?

You don't want your users to drop off from your website in frustration just because it doesn't respond and adjust to the screen sizes of their devices like tablets, laptops or smartphones.

Google already recommended in 2015 that unresponsive websites would fare poorly in the SERPs as against the sites designed for both mobile & desktop users alike.

If your website is grappling with this, it is a huge green signal for redesigning.

So these were some of the questions to ask before redesigning a website. If your website is hustling with the issues discussed above and you are looking for the assistance of a website redesign company, then look no further. Our team of experts at General Data specializes in customized website redesigning for:

E-Commerce Websites / Online Stores
Music and Video Streaming Services websites
Sites that act as data & information repositories
Web Applications with holistic UI and UX flows
Company Profile websites
Individual / Portfolio Website

We have top-notch web designers & developers with exceptional skills to deliver high quality web design and development services. Our company is also proficient in developing Web 2.0 layouts & features, and implementing JavaScript and AJAX to make your website more responsive and appealing to site visitors. Do check out our portfolio and feel free to contact us.